Literacy and The Library
Literacy at St Bernadette's School
At St Bernadette's, we recognise that Literacy underpins the whole curriculum and we are working hard to foster a reading culture in which pupils understand themselves to be lifelong readers who understand the enormous benefits that a high level of literacy can bring but also the ability to immerse yourself in a book.
Visit our Book Choice Site by clicking here
Why do we want you to become lifelong readers?
Reading can:
Help you to learn and broaden your knowledge
Increase your vocabulary, which can impact on achievement and job opportunities
Help you to communicate effectively
Help you to develop your own ideas and personality
Help to keep your brain active and increase brain connectivity
Improve your confidence and self-esteem
Provide escapism and relaxation
Give you a heightened ability to understand the feelings and beliefs of others
Help you to learn about different cultures, countries and experiences without visiting them
Keep you physically healthy: studies have shown reading lowers blood pressure and heart rate
Help you to manage depression, anxiety or loneliness
Drop Everything and Read
A key whole school literacy strategy is our Drop Everything and Read scheme, whereby students read for 20 minutes a day in a particular lesson, whatever the subject, whilst their teachers demonstrate the importance of reading by reading their own book. Pupils are, therefore, expected to have a reading book on them at all times and we work hard to help them value their reading time.
In order to prepare our new Year 7s for this, all of our new intake were given a new book from a wide range of titles and genres that they were able to read over the summer holidays. Many have come back into school and picked up other titles from the selection.
Literacy and tutor time
Our reading culture is also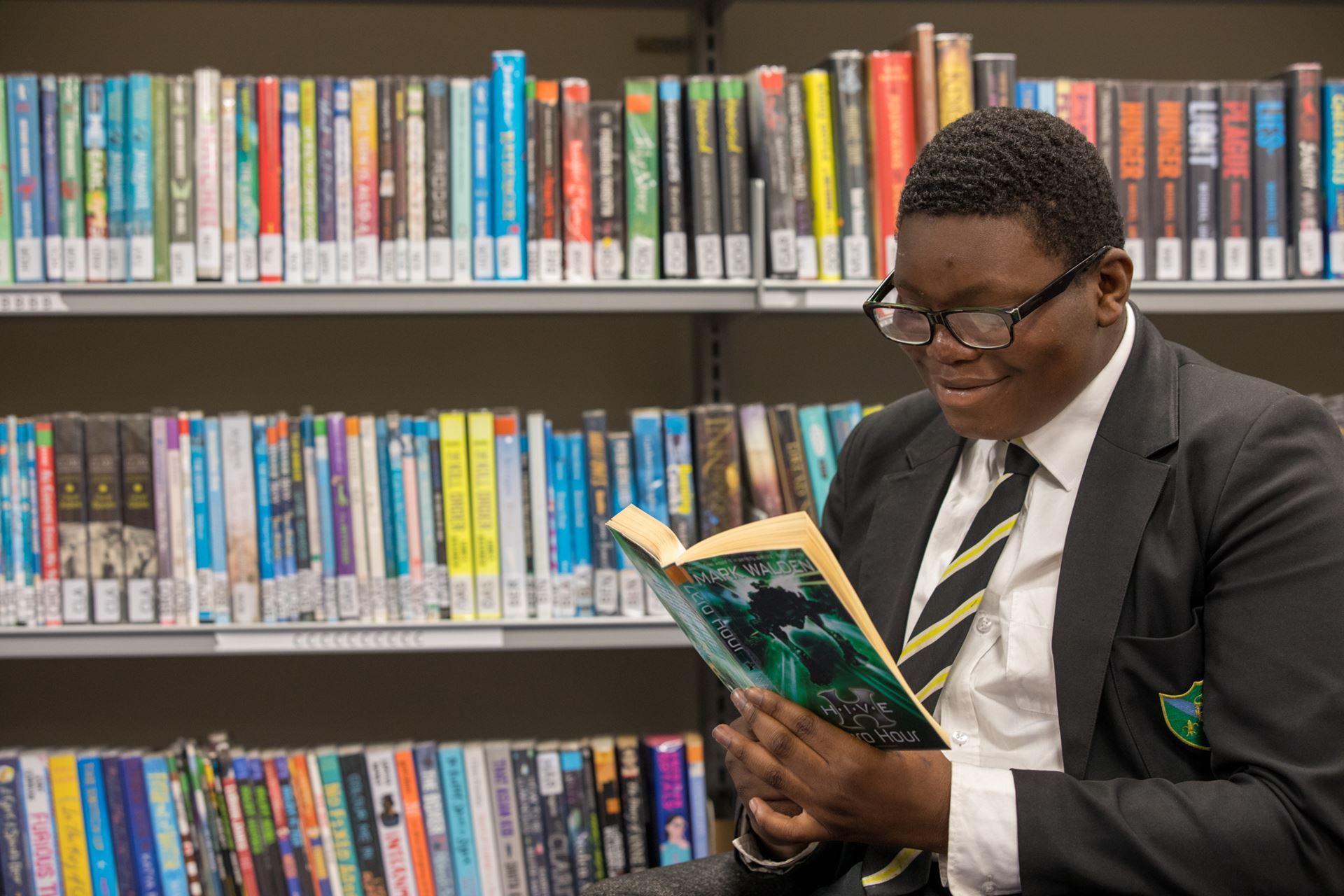 reinforced during our tutor programme for all pupils in Year 7-9. In Year 10, students are more guided in their choice of reading material. The reasons for this are twofold: to ensure that they are reading sufficiently challenging material and also to provide them with a range of titles which complement their curriculum. These titles were chosen by heads of faculty to develop students' cultural capital and breadth of knowledge around their chosen subjects.
The Library at St Bernadette's
At St Bernadette's, we take great pride in our library. It is located at the heart of the school and is an important hub for pupils, whether they be changing a library book, studying or learning during a lesson.
Library books
Our library stocks an impressive number of up-to-date fiction books from a range of authors and genres and we have worked hard to ensure that the books on offer appeal to all of our students and are fully diverse and offer both support and challenge. Pupils play an active role in the running of the library by taking responsibility for self-checking/returning their books and returning them to the shelves.
We also have a pupil book swap, which provides another way of giving pupils access to a rotation of good quality reading books. The non-fiction shelves include a range of informative books too.
Study Centre
Our library is open and supervised for pupils to change and read books before school, at lunchtimes and after school but it also plays an important role as our study centre. The library is equipped with 15 computers that pupils are able to access for home learning and there is ample desk space for revision and study. The library houses the after school Homework Club where a member of staff is on hand to support pupils with their home learning or revision.
Library Lessons
All pupils in our school
have a timetabled library lesson every fortnight, which allows them time to browse and change their books, talk to their English teacher about what they are reading and update their school Reading Journal. They are also asked to reflect on their reading habits and discuss these with their teachers or tutors.
Book Choice Site
We have created our own Book Recommendation Site based on recommendations for pupils who like a certain book, a certain genre, author type or interest. Pupils and parents are able to browse a series of front covers and brief blurbs that might give them ideas about what to read next. If a pupil likes A Diary of a Wimpy Kid or The Hunger Games (or any of many other titles), then they can browse a number of titles that they might also try. Or if they love Sport or History (or any of many other interests), they can browse some relevant books. A pupil might be keen to read a book by a BAME or Classic author, and they will find a list of top recommendations, although we strive to make all our lists as diverse as possible. Should a pupil prefer books from a certain genre like Fantasy or Thriller (or many other genres), then they can view recommendations that way.
Visit our Book Choice Site by clicking here
ePlatform
Our students now have access to an elibrary where they are able to borrow ebooks and audiobooks. These can be accessed in school on computers and Chromebooks. Pupils can also access them outside of school using the mobile app or website.
Pupils can log in by clicking on the link below and using their google log-in details.
Visit our ePlatform Site by clicking here
Events
Last year, a number of our Year 7 and 8 students were able to take part in a webinar presented by children's author Cressida Cowell (How to Train your Dragon). Cressida was talking about a series of books for teenagers called The Wizards of Once and we were thrilled to be greeted by her when she answered a question sent in by one of our students.
Pupils in Year 8 had the opportunity to hear an extended interview with Marcus Rashford about his book 'You are a Champion' and take part in some of the activities he suggested.
This year, we are hoping to launch the Rose Forde lecture series. KS4 students and members of our school community will be invited to attend termly lectures from across a wide range of topics. More details to follow.
Reading Schemes
We are always looking for ways to raise the profile of reading for pleasure and we take part in a number of reading schemes that help us to do this.
Book Buzz
For the last two years, all of our Year 7 and 8 students have been able to be a part of Book Buzz organised by the Book Trust. All students get to choose one book from an impressive range of titles and genres (17 books to choose from in 2021) and then receive their own copy of a brand new book. Pupils have really enjoyed finding out about book types, hearing them described by their authors and making their choice.
Classics Giveaway
Following on from Book Buzz and to give our pupils the challenge of reading a classic text, our Year 9 pupils are all bought a Classic book. They are allowed to choose from a wide selection of Classics and Children's Classics. Pupils have enjoyed finding out about some of the literary canon, as well as challenging themselves to read something a little different.
Readathon
In association with the Book Trust, Readathon supports the charity Read for Good who go into hospitals and ensure that children in hospitals have a range of brand new books to choose from – and someone to read with them. Recently, our Year 7s threw themselves into the challenge of collectively reading for 50,000 minutes and raised over £330 for this worthy cause.